POF heat plastic protective shrink film for food
With excellent clarity, a strong, biaxially orientated, heat shrinkable polyolefin film. The film maintains a balanced and stable shrink through the heat tunnel. It is a soft flexible material which is suited to both semi automatic and fully automatic shrink lines. The material is a multilayer co-extrusion which enables high sealing speeds at lower temperatures, and it can be recycled with Polyethylene.
Product Feature
Environment protection ,harmless and nonpoisonous
Tight sealing and perfect welding performance
High shrinkage ratio
Airproof packaging, dust and moister resistance
Light weight and excellence in flexibility and tensile strength, even thickness
High transparency and luster
High impact resistance and excellence in low temperature, aging resistance.
Excellent thermal sealing and easy wrapping
Product Application
Polyolefin shrink film is widely used to shrink wrap packages of foodstuffs, medicines, drinks, electronic & electrical products and toys. Its outstanding shrink ability makes it the first choice when heat shrinking products & packages.
Product Properties
Available sizes
| | | | | | |
| --- | --- | --- | --- | --- | --- |
| Thickness | 12mic | 15mic | 19mic | 25mic | 30mic |
| Width | 150-1100mm | 150-1100mm | 150-1100mm | 150-1100mm | 150-1100mm |
| Length (SW) | 3324m | 2664m | 7462m | 1600m | 1332m |
| Length (CF) | 1662m | 1332m | 1067m | 800m | 666m |
Workshop
Die head from Italy , can effective control the thickness of film.. 32--36bolts set on the Die head , worked with NDC thickness gauge, reduced the error of film's thickness to ±1mic.

Water colding outside the tube blank and wind colding inside the tube blank together , can assure tube cold quickly .That is the main reason why our film's clarity is better than others.
Two 5 layers 2400mm JINMING lines and Three 3layers 2200mm JINMING lines can make
our films have wide range to select on their thickness,
width
, Tensile,Tear ,COF , Seal Strength ,Haze and Gloss..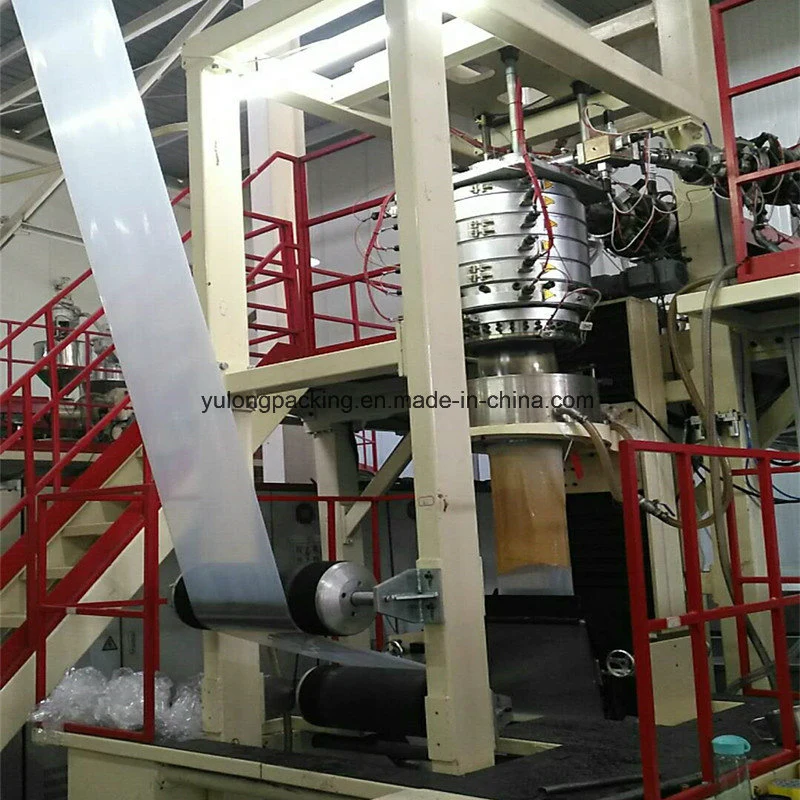 WHAT DOES POF MEAN?
POF is an abbreviation for polyolefin and generally refers to heat shrinkable shrink film.
WHAT EQUIPMENT IS NEEDED TO SHRINK POF?
Various machines are used, from simple heat guns to conveyor driven heat shrink tunnels. The product, volumes and purpose dictate the appropriate solution.
HOW IS THE SHRINK FILM SEALED?
There are many ways of sealing the pack from a simple bar sealer, an L sealer and on to the automated machines likecontinuous side seal and flow wrappers.
WHAT IS A CENTREFOLD ROLL?
Shrink film is often folded and then rolled so that when the roll is unwound, it has an open and a closed side. This is done to improve the packing efficiency when using an L sealer.
WHAT IS SINGLE WIND OR LAY FLAT?
This is simply a roll of film wound in a single layer. This is used for flow wrapping machines or many other automated machines.
CAN I PRINT ON POF?
The simple answer is yes. It is advisable to do this on volume lines, though.
WHAT TEMPERATURE DOES POF SHRINK AT?
Generally POF shrinks at around 150 degrees C. It is important to understand that the heat of the tunnel, the length of the tunnel, the speed through the tunnel and the type of pack being covered all need to be controlled to get the perfect shrink.
DO I NEED SPECIAL VENTILATION FOR POF?
Not because of the film. The ventilation needs to be appropriate for the heat tunnel though.
HOW THICK MUST THE SKIN PACK FILM BE?
Generally speaking, the heavier the item being packed, the thicker the film.